About Us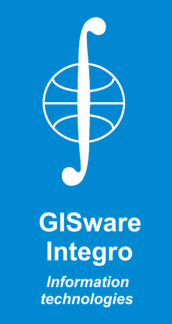 GISware Integro is one of the few Russian software development companies, which competes with the IT giants on the equal basis, having rather small team of highly qualified staff under the hood. The Company creates both unique products beating the world's leading software brands and the breakthrough solutions on their relevant market niches, which have no similar analogues in the world.
The Company was founded in 1999. Our first solutions were municipal GIS systems and data processing software for engineering and surveying domains. That is where our Company name came from, and we are proud of it. Nowadays the spatial data solutions stay the key interest for our activities. Particularly, in 2015 GISware Integro, together with our Finnish partners, entered the international market with our own CAD-solution: Spatix.
Since the middle 2000-s the Company have added the development and distribution of commercial information systems for high performance data processing to its profile, especially in such hi-tech and competitive field as telecom. Based on our own TORUS platform, we have developed three generations of Performance Management systems for telecoms. The 2nd generation system IS GLOBUS was successfully implemented in the VimpelCom, OJSC, in 2007. Before that, the overall comparative analysis of the similar class systems available at the market was undertaken. The same analysis was repeated in 2010 and confirmed the choice was right! Total Cost of Ownership (TCO) of IS GLOBUS turned out to be several times lower than the median one for the similar systems.
In 2014, the Company implemented the 3rd generation OSS TORUS system and successfully deployed it into IT-infrastructure of Tele2 Russia Group.
Since early days of its existence GISware Integro has done business with our international customers and partners in The Netherlands, in Finland, in Bulgaria. Our key principle in doing business – is to make our customer happy. Given all the experience, in 2020ths, the Company starts its expansion into international markets with our "TORUS" line of products.
In its solutions GISware Integro combines natural passion of software engineers, rational and scientific approach of managers (including collaboration with the leading area experts in Russia and abroad), constant business-processes optimizations based on feedback from our employees, customers and partners managed by the headquarters staff. The Company is engaged in educational and scientific activities housed by the leading high schools in Russia.
Welcome to do business with us.
Tim Goranskiy
CEO GISware Integro