SmartGIS brings TORUS Maps platform to the new level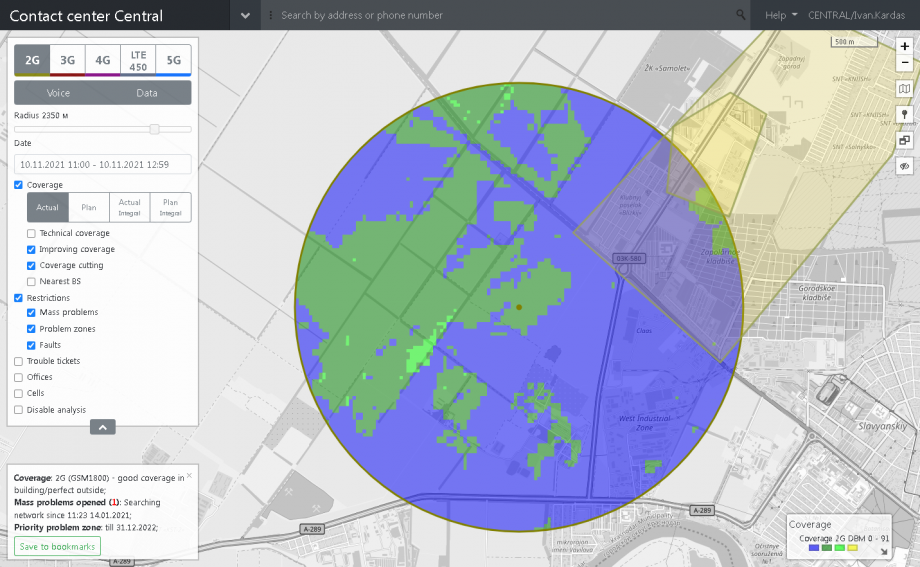 SmartGIS system built on top of our TORUS Maps software platform was successfully integrated by GISware Integro company into Tele2 Russia at the end of 2020. SmartGIS software is the GIS tool that automates customer requests handling, improves quality of responses and overall lifts the burden on customer support departments of telecom companies. It also facilitates resolution of various technical tasks by O&M and planning departments.
As a result of SmartGIS rollout and its integration with Tele2 Mobile IT services, the customer received a standalone web-based GIS tool, which boosts both job efficiency and results quality of typical telecoms' departments, such as Customer Support Services, Customer Experience Management, Marketing and Technical Departments. SmartGIS formed a single view onto actual Network state and status for all telecom's departments.
By now there are over 4000 Tele2 users registered within SmartGIS. More than quarter of them use the System on the daily basis. SmartGIS serves over 10 000 smart analysis requests per day, taking into account the actual network situation in the reporting subscriber location, which provides high quality and swiftness of customer requests handling.
As a result, according to ROMIR agency research, Tele2 has become the best in terms of NPS index (44%) (source RU) among all the other mobile network operators in Russia. Tele2 Russia's customer service experts process clients' requests faster than other telecom market players: 1.5 minutes average holding-on-the-line time for Tele2 is at least 2 times shorter than one for the nearest competitor. SmartGIS system is the crucial "investor" into this achievement.
Check here for more details.


GISware Integro company develops high-performance systems. The Company does business at the telecom OSS/BSS software market for more than 15 years. Our Performance Management systems have been successfully rolled out and now are used by VimpelCom and Tele2, the leading telecom operators in Russia.
Tele2 Russia is the 3rd hugest mobile telecom operator company that has been working in Russia since 2003. After merger with Rostelecom, Tele2 rapidly rolled out LTE networks all over Russia – the project was unique both in its scale and time constraints. In 2019 Tele2 launched LTE networks in Yaroslavl and Ivanovo regions, thereby bringing the total number of regions up to 67, including Moscow and Moscow Region. As of 2019, Tele2's subscriber base totals 44.6 mln. Tele2 launches the lifestyle enabler strategy and the "Other rules" communications platform. As a part of this campaign, operator develops innovative services that have no analogues at the Russian market.