TORUS Maps
Given its all accumulated experience, "GISware Integro" presents TORUS Maps – a web-based GIS platform for visualization, analysis and interactive management of spatial data, which comes from various sources. Born in 2015, it boosts usability of Performance Management systems (such as OSS TORUS) by introducing cutting-edge and extremely efficient features for GIS-relevant data acquisition, aggregation, transformation, accumulation and representation in visual forms, suitable for interactive analysis and manipulation.
TORUS Maps is a versatile web mapping system suitable for any business and departments, which have to deal with various geo objects, their attributes, timelines of online and historic data (e.g. IoT), custom queries to those, optimal routing and live traffic distribution, service coverage maps, and many others of a kind.
TORUS Maps exhibits a power of a classic desktop GIS solutions, but operates through the web, provides ease of use for end-users and seamless rollout for administrators. It provides instant response times even on huge datasets.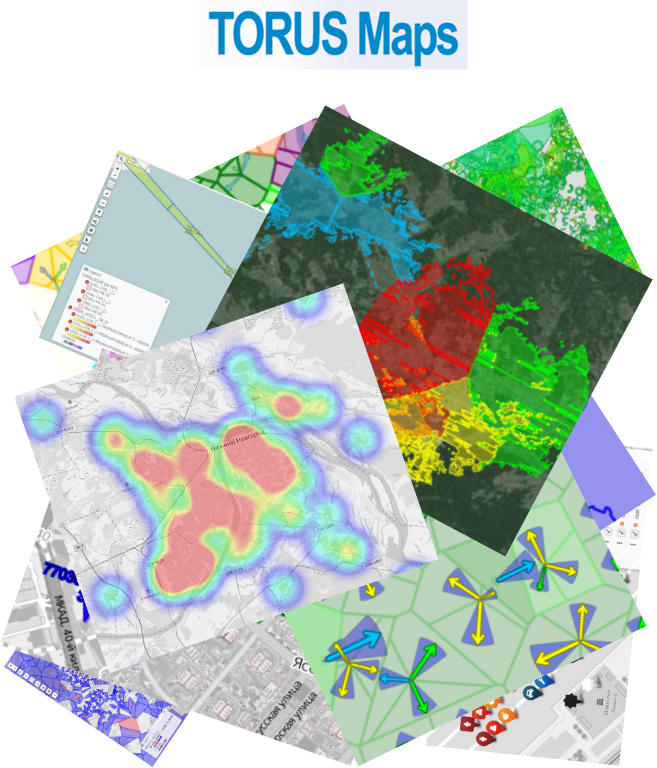 TORUS Maps benefits to:
Telecommunications & IT

in respect of network statistics data visual analysis, which comes from variety of network elements,
in base-station serving zones and QoS coverage maps calculation,
in subscriber requests processing and aggregation;

Oil & gas

in gas- and oil-fields exploitation monitoring,
in hardware maintenance control,
in cadaster management and resources inventory,
in environmental protection;

Transport & logistics

in optimal routing and navigation, delivery tracking,
in traffic flows modelling, hubs and logistics centers optimal placement modelling;

Construction & civil engineering

in communications, pipelines, energy and transport networks planning,
in management of construction sites alternative designs with various options.
Key features
User-focused interface includes interactive help system which allows users to dive in quickly with better concentration at business goals;
Many of smart visualization options present all relevant data on screen with no visual strain;
Scalability is kept in mind – you'll be ready to stand the exponential growth of data processed;
Smart Automatic Analyzer suggests possible solutions for problems identified, so that to reduce human error;
BIG DATA readiness facilitates modern approaches to correlate inter-data dependencies to find solutions for challenging business problems;
Service coverage maps render signal strengths in colors relevant to local topography, city heights model, actual or historic network operation statuses;
IT-infrastructural systems integration is important for maintaining flawless interaction between all tools and workflows which are the key for business processes stability and overall business digitalization.
TORUS Maps deployment use cases prove the growth of business' flexibility, efficiency and their customers satisfaction. TORUS Maps can lay the basement for building up unique new digital services exclusive to your business. Ultimately, TORUS Maps decreases operational costs and adds up to company's profit and capitalization.