OSS TORUS — a solution for bigger businesses
Our OSS TORUS is a solution for telecom operators and IT departments of modern companies enabling effective and continuous quality control of the services provided and network capacity monitoring.
According to TMForum classification, TORUS can be ranged in a class of Resource Performance Management, Service Performance Management and Service Quality Monitoring with Inventory, Reporting & Analysis and Alarming & Monitoring elements [TAM card].
TORUS is a well-balanced, self-sufficient, flexible and open solution built on TORUS Platform and represents the third generation of OSS systems that we have been developing and improving since 2002. The best experience gained by our experts and developers allowed us to create a solution characterized by:
High productivity and scalability;
Inherent suitability for multiple vendors and multiple releases;
Support of any equipment (including that without inbuilt OSS);
Ability to calculate any KPI and KQI in real time.
The undeniable advantages of the solution are direct manufacturer support and low ownership cost (TCO).
Our experience shows that the use of TORUS is cost efficient with company's profit and capitalization growing, operating and capital costs falling, business' flexibility and efficiency increasing.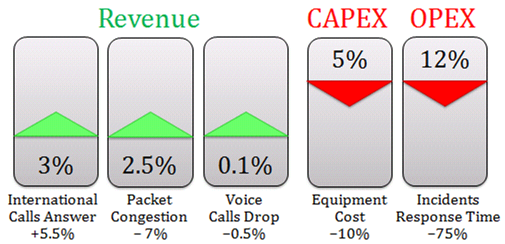 TORUS is popular among all users who need reliable feedback on the condition and quality of networks and services and allows to tackle various tasks, such as:
Strategic planning and investment decision making (company's management);
Technical audit check of the network condition and event planning (marketing and quality departments);
Infrastructure planning and equipment load control (planning and optimization departments);
Service and equipment condition control troubleshooting and problem solving (operations department);
And many others.
See more on OSS TORUS in our download materials.
We'll be glad to answer your questions, admin@gisw.ruquery@gisw.ru